Super Dancer Chapter 3 Winner Name Rupsa Batabyal 2019 Grand Finale, Prize Money & Runner-Up: Super Dancer Season 3 final episode is about to be telecast soon. It is the best kid's reality show and we are pretty sure that the Super Dancer Season 3 name will shock you. A lot of names are coming out as a winner of this amazing season. Super Dancer Season 3 winner name 2019 is out for everyone. Also, the show is aired on Sony Entertainment Television. It is the third season and you all can check out the updates down here.
Super Dancer Chapter 3 Winner
As you all might already know that Super Dancer Season 3 has seen the 2 amazing seasons. The show is produced by Ranjeet Thakur and Hemant Ruprell of Frames Production. The first season was won by Ditya Bhande. Also, the second season was won by Bishal Sharma. We are expecting that the third season is going to be exciting. The third season is being aired every Saturday and Sunday 8 PM on Sony.
A report in an entertainment portal has suggested that Rupsa Batabyal has won the dance reality show. The six-year-old little girl, who hails from Kolkata, is the winner of 'Super Dancer 3', the report in India Forums said.
View this post on Instagram

on
Super Dancer Winner (All Chapter – 1 to 3)
Super Dancer Chapter 1 Winner: Ditya Bhande
The first season of Super Dancer was superb as there were very talented contestants in the show. But Ditya Bhande won the show with her ultimate dance moves and skills.
After winning the show she worked as a child artist in a Tamil movie Lakshmi. For which she won the best child artist award too.
Date: 10 September 2016 to 17 December 2017
Prize Money: 15 Lakhs
Runner Up: Dipali Borkar
Super Dancer chapter 2 Winner: Bishal Sharma
Bishal participated in season 1 also but couldn't make it up to the top 16. But in season 2 his simplicity and his dance touched the public. And made him the ultimate winner of Super Dancer 2.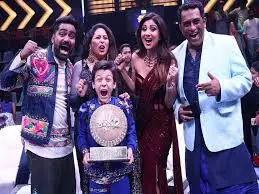 Date:30 September 2017 to 24 March 2018
Prize Money: 15 Lakhs and diamond jewelry for his mother from PC Chandra
Runner Up: Ritik Diwaker
Super Dancer 3: Top Super 5 Finalist
After this, contestants perform and they will know that to impress the Judges and Audiences they all have to give a semi-final terrific Performances. When Rupsa Perform in the stage the judges continue to look her performances and said at this age you do this type of dance style we proud of you. The finale will be in between Top 5 contestants. At present, there are 11 candidates who are fighting for the title. According to our prediction, the finalist of chapter 3 can be:
Tejas Varma
Akshit Bhandari
Jay Chauhan
Rupsa
Saksham
This show is being judged by choreographer Geeta Kapoor, the Diva Shilpa Shetty, and director Anurag Basu. Overall, this is the exciting show and the viewers are going to love the final episode for sure. Also, you all should know that the show was started on the 29th of December 2018. People are watching this show in good numbers and enjoying it. It's still running on TV and is topping the TRP charts.
Super Dancer 3 Winner, Runner-Up & Prize Money
You all can check out the updates related to the showdown here. Also, you all should know that the prize money and the name of the winner will be updated on our website soon as it will be out. You all can check out the Super Dancer Chapter 3 winner name down here. Super Dancer Season 3 final episode can be watched by everyone on Sony as soon as it is telecast.
Shilpa Shetty to perform Bharatanatyam for the first time during the grand finale
Speaking of the grand finale, Shilpa Shetty will be seen treating the viewers with his magical performances. She will be doing not one or two but four performances with four different costumes. The actress will be dancing to the songs such as 'Titli' from Chennai Express, 'Muqabala' from ABCD, 'Aithe aa' from Bharat and 'Ghoomar' from Padmaavat.
Who Will become Super Dancer 3 Winner?
Date:
Prize Money: TBA
Runner Up: TBA
Well, tonight you all will see that these top five contestants' starts dance fight to reach the Final and three contestants reach the Super Dancer Chapter 3 final Seat. They will perform with Last season Contestants and trying to impress Judges and Audiences in good numbers. So make your favorite contestant safe do Vote and reach them Finale. for the latest updates and information stay tuned and scroll our page more.