Manohar Parrikar Dies Live Updates: Manohar Parrikar to be cremated with state honours today, 7-day mourning in Goa:  Manohar Parrikar, Goa Chief Minister and former defence minister, has passed away at the age of 63 after a long battle with pancreatic cancer. Parrikar was diagnosed with advanced pancreatic cancer in February 2018 and had been in and out of hospitals in Goa, Mumbai, Delhi and New York since.
LIVE Updates | Goa CM Manohar Parrikar Passes Away Aged 63
The 63-year-old leader, who had been suffering from the life-threatening pancreatic ailment for past one year, had undergone treatment at various hospitals in Goa, Mumbai, Delhi and the US. His health deteriorated on late Saturday night and the news of his demise came in on Sunday evening
21:04 (IST), MAR 17
Deeply saddened by demise of chief minister of Goa and former Union defence minister Manohar Parrikar. May God give his family the strength to bear this loss: Former PM HD Deve Gowda
21:03 (IST), MAR 17
Manohar Parrikar likely to be cremated tomorrow in Panaji: Lok Sabha MP Narendra Sawaikar
21:02 (IST), MAR 17
BJP core committee meeting discuss political situation underway
21:02 (IST), MAR 17
PM Narendra Modi mourns Manohar Parrikar
Shri Manohar Parrikar was an unparalleled leader. A true patriot and exceptional administrator, he was admired by… https://t.co/K8k7LWUVyD

— Chowkidar Narendra Modi (@narendramodi) 1552836552000
20:57 (IST), MAR 17
BJP has faced a huge loss with the demise of Manohar Parrikar. Apart from being a party member, he was a really close friend of mine. He isn't with me today & I'm personally very pained by this. I am immediately leaving for Goa: Union minister Nitin Gadkari
20:56 (IST), MAR 17
Union minister Piyush Goyal expresses grief over Parrikar's death
Extremely saddened to know about the sad demise of our beloved and stalwart leader Shri Manohar Parrikar Ji. His ex… https://t.co/RdjjUic5Om

— Chowkidar Piyush Goyal (@PiyushGoyal) 1552834777000
20:53 (IST), MAR 17
Manohar Parrikar's stint as defence minister was defined by surgical strikes
20:51 (IST), MAR 17
Manohar Parrikar was a good human being. His passing away has left a huge gap in politics; we have lost a good politician. His demise has caused us immense grief. I express my grief and I pay my tributes on behalf of my party and myself: Mallikarjun Kharge, Congress
20:47 (IST), MAR 17
Studious minister: Nobody dared dismiss his word
20:45 (IST), MAR 17
Congress leader Shashi Tharoor expresses grief over Parrikar's death
Mourning the loss of Manohar Parrikar, a rare IIT graduate in politics who was widely admired for his simplicity &… https://t.co/nCjeVz4YCT

— Shashi Tharoor (@ShashiTharoor) 1552834082000
20:44 (IST), MAR 17
Rajasthan chief minister mourns Manohar Parrikar
Deeply saddened by the demise of Shri Manohar Parrikar ji, Chief Minister of Goa. My heartfelt condolences to his f… https://t.co/cLerqvYCkl

— Ashok Gehlot (@ashokgehlot51) 1552833920000
20:34 (IST), MAR 17
Life and times of Manohar Parrikar
20:33 (IST), MAR 17
BJP president Amit Shah mourns Goa chief minister Manohar Parrikar
Entire BJP stands firmly with Parrikar ji's family. I along with millions of BJP karyakartas and importantly the pe… https://t.co/poTpc5Nm5P

— Chowkidar Amit Shah (@AmitShah) 1552834655000
20:31 (IST), MAR 17
Manohar Parrikar — The man who changed Goan politics
20:29 (IST), MAR 17
Union minister Rajnath Singh expresses condolences
Deeply saddened and pained by the demise of my dear friend & Chief Minister of Goa, Shri Manohar Parrikar. He was k… https://t.co/GlvugAu50B

— Chowkidar Rajnath Singh (@rajnathsingh) 1552834626000
20:26 (IST), MAR 17
Defence minister Nirmala Sitharaman expresses grief over Parrikar' death
Shri Manohar Parrikar is no more. A sincere, honest & sensitive political activist. Was simple and down to earth, I… https://t.co/s3vCf3Zzgz

— Chowkidar Nirmala Sitharaman (@nsitharaman) 1552834137000
20:24 (IST), MAR 17
Visual from outside residence of late Goa chief minster Manohar Parrikar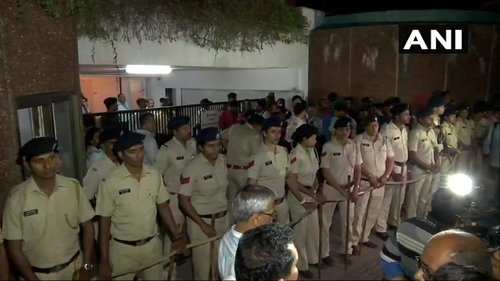 20:22 (IST), MAR 17
Priyanka Gandhi Vadra mourns death of Goa chief minister Parrikar
My condolences to the bereaved family of Shri. Manohar Parrikar. I met him only once, when he graciously visited my… https://t.co/97jqts98nv

— Priyanka Gandhi Vadra (@priyankagandhi) 1552834266000
10 facts About Goa CM Manohar Parrikar
1) Born on December 13, 1955, Parrikar became Sangchalak at 26 years of age in early 80's of Mapusa Unit. He is passed out from IIT Bombay from metallurgical engineering.
2) He became the chief instructor for RSS Swayamsevak when he was in the final years of his college.
3) He returned to Goa in the year 1979 to pursue private business with wife Medha Parrikar with whom he had a love marriage.
4) Parrikar worked for many movements of the RSS including Ram Janambhoomi between 1985 and 1991. Sangh deputed him to BJP for the period of 1994 to 1999.
5) His active political career kicked off in 1994 when he became the Member of Legislative Assembly in Goa House. He became the leader of Opposition for the first time from June to November 1999.
6) In 2000, days before becoming the Chief Minister of Goa for the first time, his wife passes away due to cancer. He served as Goa CM from October 24, 2000, till February 27, 2002. He was re-elected in June 2002 and served another term from 2000 to 2005.
7) He was once again sworn in as Goa CM in March 2012 but tender his resignation in November 2014 after being named as the Defence Minister of the country.
8) The 2016 surgical strike against Pakistan-based terror groups in PoK was carried out during Parrikar's tenure as defence minister.
9) Parrikar again became the Goa CM on March 2017 after the governor of the state called him to form the government in the coastal state.
10) He is survived by two sons- Utpal and Abhijat Parrikar.