Hyundai Elantra Sixth Generation Sedan Launched In India at Rs 12.99 lakhs Specification Features :- Hyundai Motot India introduced the latest sixth generation sedan Elantra and has been launched in India at an price tag of Rs 12.99 lakhs. The new sedan Elantra of Hyundai will be ranging in between of Rs 12.99 lakhs to Rs 19.19 lakhs (ex-showroom Delhi).
According to the souces of Hyundai – the diesel variant of the car with manual transmission model has priced between Rs 14.79 lakh and Rs 17.69 lakh while automatic transmission model of diesel variant is priced at Rs.19.19 lakh. The new sedan Elantra is the most affordable high-end technology included sedan. The Fuel efficiency of the car is unremarkable in both petrol and diesel variants.
According to Hyundai Motor India Ltd that the Hyundai Elantra manual transmission petrol variant is priced between Rs 12.99 lakh and Rs 16.59 lakh while the two automatic transmission variants are priced Rs 15.89 lakh and Rs 17.99 lakh respectively.  The official of Hyundai said that the new Elantra comes with both manual and automatic transmission and the new sedan powered by diesel and petrol engines.
CEO and MD of HMIL – Y.K. Koo as saying that in the pursuit to achieve the best technology of the world, the all new Hyundai Elantra is the culmination of 26 years of continuous and dedicated research by Hyundai Motor.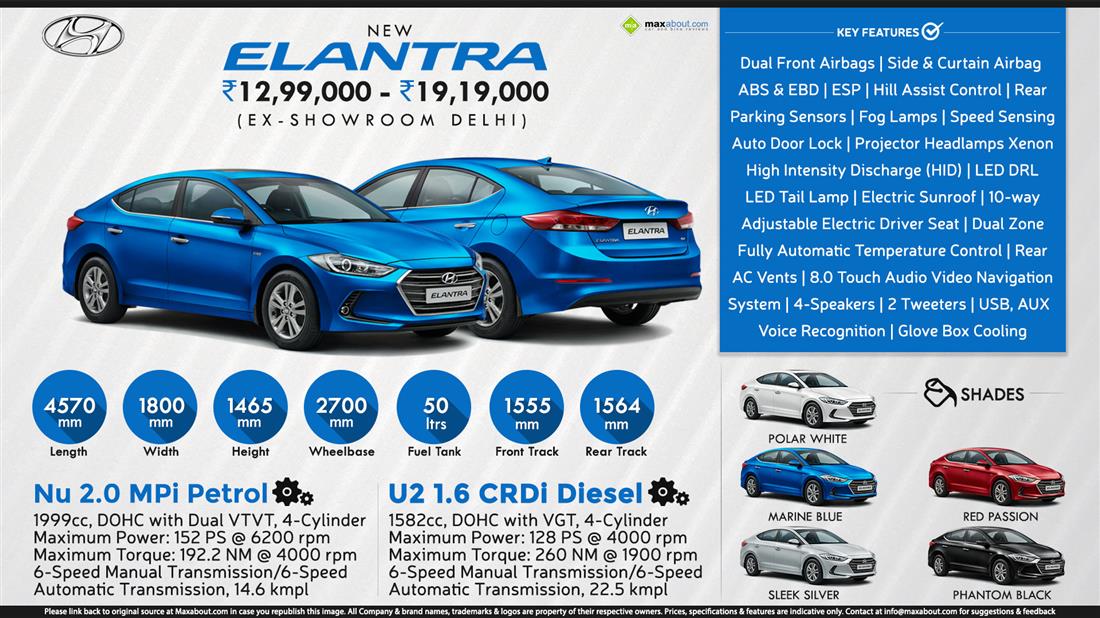 Source: Maxabout
The new sedan Hyundai Elantra can expect the power of 128 PS and 260 nm of Torque from the diesel engine variant whereas the petrol engine will be delivering 152 PS of Power and 192 nm of Torque. The new sedan Elantra is to be the top end variant of the car which will come bundled with a reverse parking camera, Vehicle Stability Management, 6 air bags, ABS and Hill Start Assist.