Kashmir Live Updates: Amit Shah moves J&K Reorganisation Bill in Lok Sabhar: On Friday, Panic gripped the Kashmir Valley for tourists and pilgrims of Amarnath Yatra after the Jammu and Kashmir (J&K) government's security advisory said to limit their pilgrimage about some possible major decisions regarding the state's special status. What is Article 370 and 35A?
HIGHLIGHTS
J&K is in a state of panic with the government imposing Section 144 across various districts
Political leaders have been put under house arrest as the Valley remained on edge
Further, mobile internet and phone services have been suspended in Kashmir
The legislation prevents outsiders from owning property in the state
Article 35A part of Article 370 which guarantees J&K its own constitution
Political leaders in J&K are united in fight to preserve Article 35A
The tourists, as well as the Amarnath Yatra pilgrims, started leaving the Kashmir Valley on Saturday, and the J&K Governor Satya Pal Malik said that there was no need to panic. He also requested political leaders to ask their supporters to keep their calm and do not believe in "exaggerated rumours". Malik had also said that there were no plans to retract Article 35A.
Jammu & Kashmir Live Updates:
11:25 AM
Union Home Minister Amit Shah in Lok Sabha: Jammu & Kashmir is an integral part of Union of India. Kashmir ki seema mein PoK bhi aata hai…Jaan de denge iske liye!
11:16 AM
Union Home Minister Amit Shah moves the resolution to revoke
#Article370
in Jammu and Kashmir, in Lok Sabha.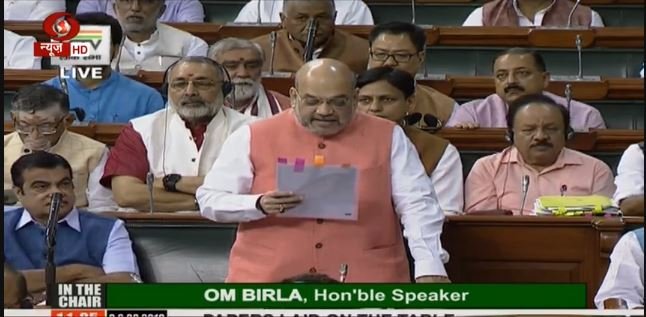 10:30 AM
Jammu & Kashmir: Section 144 is imposed in
#Srinagar
, people move about for essential work;
#Article370
was abrogated and Jammu & Kashmir was made a Union Territory (UT) with legislature, yesterday.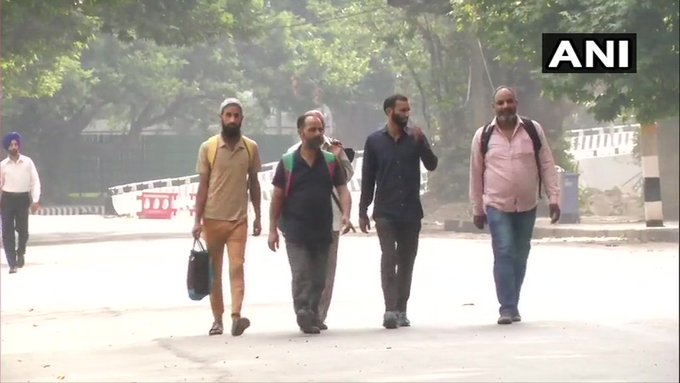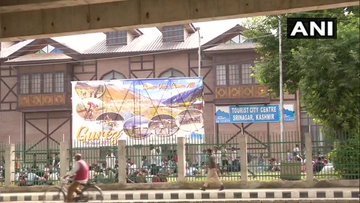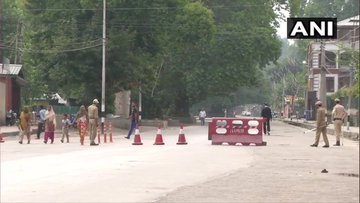 05:00 PM
FM Nirmala Sitharaman: It is something the country has been waiting for the last 70 years. Even our manifesto mentioned the need to abrogate
#Article370
, so it is not something we brought out suddenly like a rabbit from a magic hat.
02:10 PM
TK Rangarajan,CPI(M) in Rajya Sabha: It's black day.Indian constitution has been raped by BJP govt. You didn't consult people of J&K-Ladakh. You dissolved Assembly,you don't want to hold any election. You've taken another 35000 Army people there. You're creating another Palestine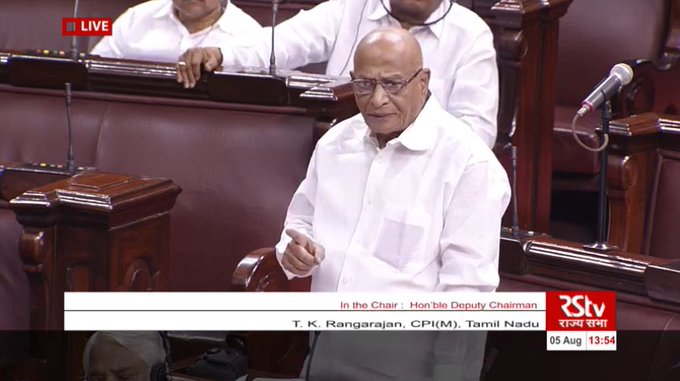 01:55 PM
MK Stalin, DMK President: Without consulting people of Jammu and Kashmir, Article 370 has been taken away. Democracy has been murdered. AIADMK is also supporting the decision which is condemnable.
01:40 PM
Sharad Pawar, NCP: I think Govt of India should have taken them (leaders of the valley) into confidence which unfortunately the govt didn't do. And then they should have taken the decision (to revoke 370).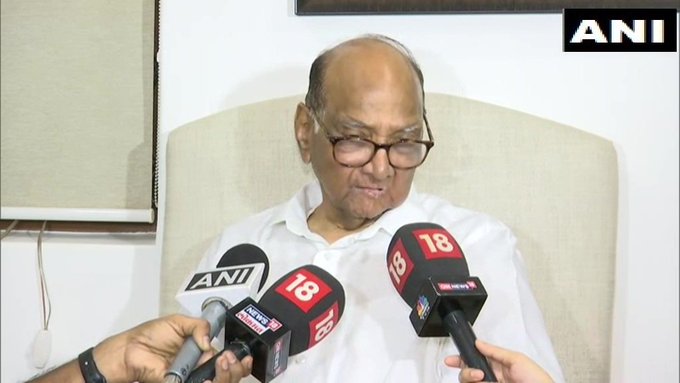 01:23 PM
MDMK leader Vaiko in Rajya Sabha: You have played with the sentiments of people of Kashmir. When additional army personnel were deployed there, I was worried. Kashmir should not become Kosovo, East Timor and South Sudan.
01:05 PM
Sanjay Raut, Shiv Sena in Rajya Sabha: Aaj Jammu & Kashmir liya hai. Kal Balochistan, PoK lenge. Mujhe vishwaas hai desh ke PM akhand Hindustan ka sapna poora karenge.
01:00 PM
Indian Army and Indian Air Force have been put on high alert, following revoking of Article 370 and other decisions announced by Government of India.
12:47 PM
BJD MP, Prasanna Acharya in Rajya Sabha: In real sense today, Jammu & Kashmir has become a part of India. My party supports this resolution. We are a regional party but for us nation is first.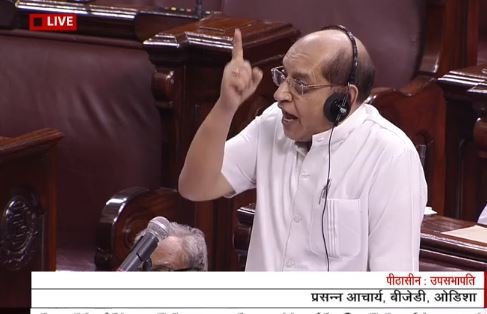 12:38 PM
Close to 8,000 paramilitary troops airlifted and moved in from Uttar Pradesh, Odisha, Assam and other parts of the country to the Kashmir valley. Troops induction still going on.
12:27 PM
HM Amit Shah: This is not the first time, Congress in 1952 and 1962 amended article 370 through similar process. So instead of protesting please let me speak and have a discussion, all your doubts and misunderstandings will be cleared, I am ready to answer all your questions.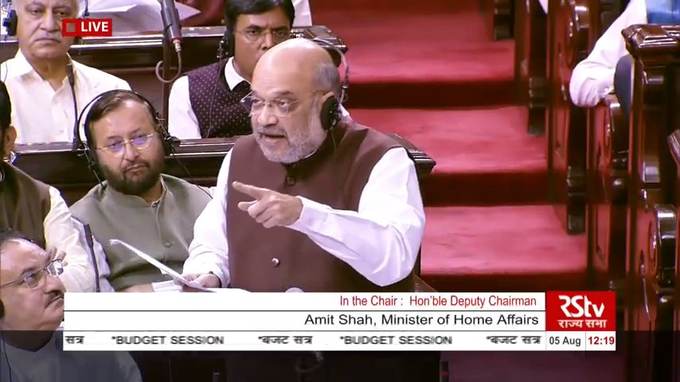 12:22 PM
Copy of the Indian Constitution torn in Rajya Sabha today by PDP MP Mir Mohammad Fayaz. Rajya Sabha Chairman M Venkaiah Naidu directed him to leave the House after this incident.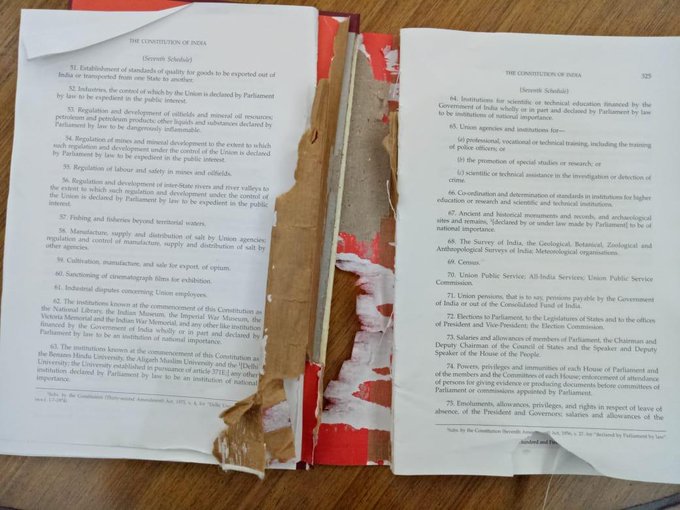 12:16 PM
Satish Chandra Mishra, BSP MP, in Rajya Sabha: Our party gives complete support. We want that the Bill be passed. Our party is not expressing any opposition to Article 370 Bill & the other Bill.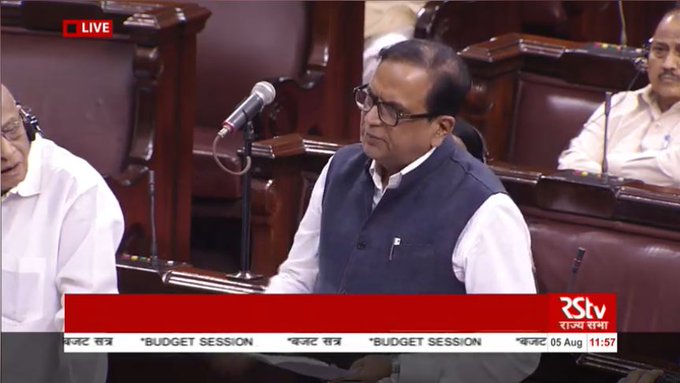 12:10 PM
PDP's RS MPs Nazir Ahmad Laway&MM Fayaz protest in Parliament premises after resolution revoking Article 370 from J&K moved by HM in Rajya Sabha; The 2 PDP MPs were asked to go out of the House after they attempted to tear the constitution. MM Fayaz also tore his kurta in protest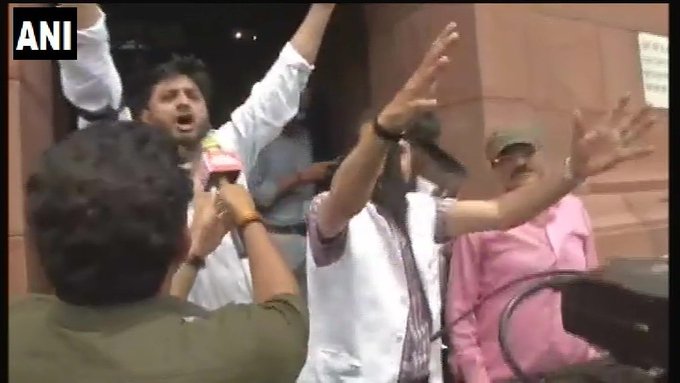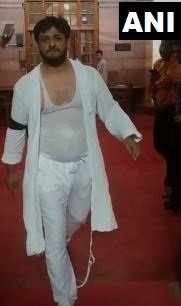 HM Amit Shah in Rajya Sabha: Under the umbrella of Article 370 three families looted J&K for yrs. Leader of Opposition (GN Azad) said Article 370 connected J&K to India, it's not true. Maharaja Hari Singh signed J&K Instrument of Accession on 27 Oct 1947, Article 370 came in 1954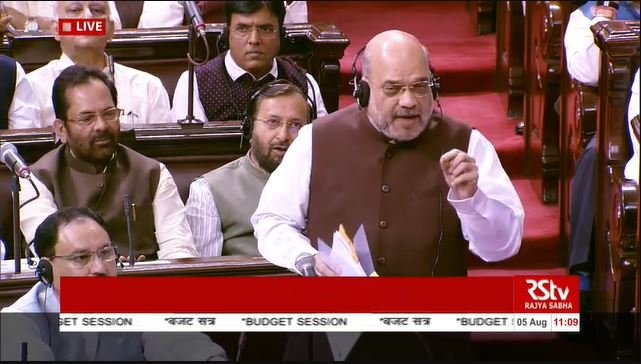 11:59 Am
Home Minister Amit Shah in Rajya Sabha: Article 370 hatane mein ek second ki bhi deri nahi karni chahiye.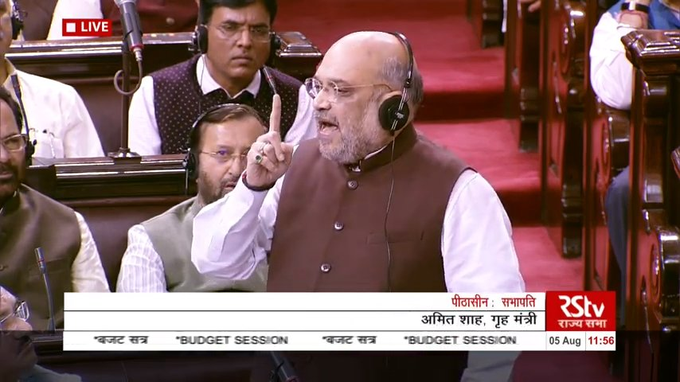 Article 370 grants special status to Jammu and Kashmir
Article 370 grants special status to Jammu and Kashmir and limits Parliament's power to make laws concerning the state. Article 35A empowers Jammu and Kashmir assembly to define 'permanent residents' for bestowing special rights and privileges on them. The government has proposed to remove all provisions Article 370.
Rajya Sabha adjourned amid chaos
Rajya Sabha has been adjourned as Amit Shah's proposal triggered massive chaos in the House. Amit Shah has proposed to remove Article 370 that gives special status to Jammu and Kashmir.
All regulation under Article 370 will not be applicable after Presidential nod
Amit shah proposed that all regulation under Article 370 will not be applicable after Presidential nod.
Massive chaos in Rajya Sabha as Amit Shah announces removal of Art 370
Home Minister Amit Shah has moved a proposal to revoke the contentious Article 370 from Jammu and Kashmir, triggering a massive chaos in Rajya Sabha as opposition MPs shout slogans and start protesting.
Amit Shah moves proposal to remove all provisions of Article 370
BREAKING: Amit Shah moves proposal to remove all provisions of Article 370
Amit Shah: 4 bills and issues need to be discussed before the Kashmir situation
Home Minister Amit Shah replies to Ghulam Nabi Azad, says, "I have brought 4 bills before the House that need to be discussed before the situation."
Ghulam Nabi Azad wants Kashmir to be discussed immediately
Congress MP Ghulam Nabi Azad raises Kashmir issue in Rajya Sabha, says, "Entire Kashmir is under curfew. It's a war like situation. Three CMs are under house arrest. That should be discussed first. Bill can be passed later."
Amit Shah starts addressing Rajya Sabha amid chaos
Home Minister Amit Shah has risen to speak on Kashmir as Congress MP Ghulam Nabi Azad demands answers on the ongoing crisis over the situation in Kashmir.
PDP MPs tell Opposition: There is a situation of chaos in Kashmir
PDP MPs Nazir Ahmad Laway and Mir Mohammad Fayaz, in a letter written to opposition members, have said, "There is a situation of chaos and uncertainty all around. People do not know what is cooking between the top brasses of the present government vis-a-vis the Kashmir issue."
"Over the past few days we have seen some of the most irresponsible speculation regarding Kashmir, be it revocation of Article 35A, Article 370 or trifurcation of the state. Yet the truthfulness of these statements cannot be ruled out owing to the criminal silence of the central government over the same. We would like to reinforce that the Kashmir issue is a political issue and needs to be addressed politically,"
Amit Shah in Rajya Sabha, to address House
Home Minister Amit Shah is sitting in Rajya Sabha, to make his address shortly.
At 8:00 am, the Governor Satya Pal Malik said that a pure security measure is being mixed up with some issues with which it has no link which is the source of the panic. He requested "not to mix up matters, to maintain calm and not believe exaggerated rumours being circulated all around".
At 8:40 AM, encounter took place in Malmapanpora area of Sopore, where at 8:51 AM, one terrorist killed in encounter with security forces in Sopore.
District Magistrate Srinagar Shahid Choudhary, tweeted, "In Srinagar district we have sufficient stocks of all essentials including food, fuels and medicines. Roads are open, replenishment is routine. People are requested to avoid hoarding and panic shopping."
Air India has decided to give a full fee relinquishment on postponement as well as cancellation for all its flights to and from Srinagar, Jammu and Kashmir till August 15. Various other airlines which comprises of IndiGo, Spicjet and Vistara have also decided to give a full fee waiver on rescheduling and cancellation for all its flights to and from Srinagar, Jammu and Kashmir up till August 9.
Angrez Singh Rana, District Commissioner, Kishtwar, said, "Machail Yatra to Goddess Durga shrine in Kishtwar district of Jammu and Kashmir has been suspended."
On Saturday, Border Security Force said, "A Pakistani intruder has been apprehended by BSF near Ferozepur in Punjab. Concerned authorities are questioning him about his whereabouts and intentions. Nothing objectionable recovered from him."
Former Jammu and Kashmir CM Omar Abdullah tweeted, "Will be taking a delegation of JKNC colleagues to meet Governor Malik at 12 noon today."
11:33 AM: Rapid Action Force (RAF) reaches Jammu around 11: 30 am and around 11:50, State BJP core group meeting begins.
Congress spokesperson Manish Tewari tweeted, "J&K facing Pakistan-sponsored militancy since October, 1947. Worst period – 1990 – when VP Singh PM supported by BJP and Communists. Neither in October-47 nor in 1990 did the Indian state surrender to Pakistan like today. Government should have provided security to pilgrims/tourists rather than asking them to cut and run."
TRS working president KTR on Twitter said, "Been receiving some anxious messages from Telugu students of NIT, Srinagar as Government of India has asked for campus to be vacated and asked students to leave immediately. Be rest assured, Government of Telangana will assist you in safe return. Have alerted our officials to reach out and help."
After an emergency meeting between BJP core members, state BJP chief Ravindra Raina  also said that Article 35A and 370 have all the time disrupted the concord among people of Jammu and Kashmir.
For this weekend, the Airfares for flights from Srinagar have shot up to abnormally high levels and for a one-way direct flight from Srinagar to Delhi, the charges are between Rs 10,000 to Rs 22,000, even of low-cost airlines like IndiGo, SpiceJet, GoAir and AirAsia according to travel portals. The normal rates usually hover around Rs 3,000.
Former J&K CM Omar Abdullah, in a press conference said that he met Governor Satya Pal Malik to get clarity on the condition. He said, "We're not getting any answers. There is a lot of speculation on trifurcation as well". He also said, "After yesterday's order, the situation in valley is tense and people are hoarding outside petrol pumps and grocery stores. And in addition to that government's order to ask tourists and Yatris to leave which has never happened before nor has any tourists been attacked."
He added, "We asked Governor if it's about Article 35A, Trifucation or 370, but he said that there is nothing like that. We want Centre to issue a statement on Monday during Parliament. We want to hear from Parliament so that people here get clarification."
Peoples Conference chief Sajad Lone tweeted, "I believe there is dire need for the central government to clear what is happening out here. It is strange. We, the inhabitants of the land, don't have the remotest idea of what is going to happen."
The security forces have killed two of the Jaish-e-Mohammed (JeM) terrorists in Sopore, Jammu and Kashmir. Along with this, they have also recovered arms and ammunition.
UK issued travel advisory, asking citizens not to travel to J&K post the security advisory after which Germany too issued the travel advisory.
Australia has also issued a travel advisory to its citizens by stating, "We advise against all travel here due to the very high risk. If you do travel, you should typically seek professional security advice. Be aware that regular travel insurance policies will be void and that the Australian Government is unlikely to be able to provide consular assistance,"