Shahid Kapoor Film Udta Punjab makers refuse the 100 cuts Won't Release in Pakistan :- After all the conterversy and legal issues of Udta punjab . Finally releasing in Pakistan with 100 cuts . Pakistan has a huge audience of bollywood . The censor board in Pakistan was stricter the CBFC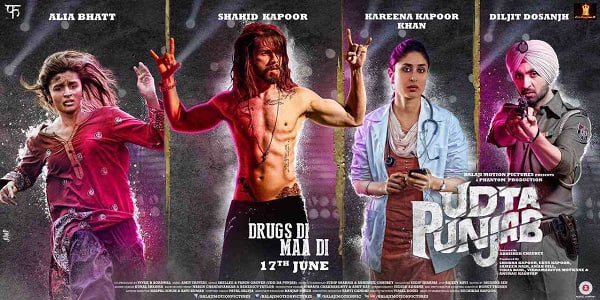 censor board in Pakistan were orderd 100 cuts in Udta Punjab
The performance of Shahid Kapoor, Alia Bhatt, Kareena Kapoor were appriciated by the fans accross the globe . This movie has come up with a social message or we  can say that  awareness regarding the drug addiction . But the journey of Udta Punjab is very difficult ,The CBFC levied 89 cuts on the film, complying with which would have resulted in the film losing its tone . The makers of Udta Punjab knocked the door of court,s and won the legal battle  and the filmed was  released with just one cut .
In our neighbouring country Pakistan has a huge audience for Bollywood . The Paksitan censor board is very strick ed qnd levied 100 cuts on the film. So the makers of Udta Punjab have decided not to release movie in pakistan . Director abhishek chaubey said that , There is no scope to fight our case in Pakistan. So, we decided not to release the film there,"
The fim is based on drugs and substance abuse problem pertaining in the country . The movie characters use local language to bring the realistic touch  in the movie . The director said in an interview "There was a bigger message that we wanted to convey with the movie and that was against drug peddling and drug abuse. This movie revilt the truth of the young generation of Punjab and how they are being addicted to the drugs . Shahid Kapoor's character in Udta Punjab was that of a drug addict rock star .